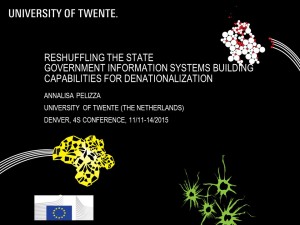 If it wasn't that same Friday 13 November 2015 that will be remembered for the Paris killings, I might say that it has been a pleasure and a joy to talk at the 40th conference of the Society for Social Studies of Science (4S) in Denver last week.
The panel was titled "Assembling Governance", and it was chaired by Jan‐Hendrik Passoth (Technische Universität München) and Nicholas J. Rowland (Pennsylvania State University).
My talk discussed for the first time the results of the part of the "Translating Institution" project conducted at the Dutch Kadaster. In nuts and bolts, by adopting a constructivist perspective it argued that the vendor lock-in in which government agencies often find themselves because of an alleged internal lack of digital skills in civil servants is rather the result of concrete technical choices carried on over the years.
To show this, I applied Callon's notion of "interessement devices" to the case of the Kadaster's personal database integration along a 20 year long period. In this case, careful technical choices have allowed co-creating "relevant knowledge" and "skillful operators" throughout the process of information system integration.
Thanks to the other panelists and participants for the questions, and looking forward to finalize the article!
AP