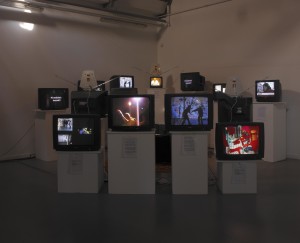 Pelizza, A. (2006), 'Comunicare l'immediatezza. Una televisione dal basso a Rotterdam', Inchiesta. Rivista di Studi Politici, 152 (April/June issue): 12-18.
Only available in Italian
Nel settembre 2005, immediatamente dopo la sua premiazione presso il Prix Ars Electronica di Linz (A), la redazione di Orfeo TV – Telestreet venne raggiunta da un invito da parte dell'International Film Festival Rotterdam – Exploding Television e del Centro d'Arte Contemporanea Witte de With a partecipare all'iniziativa "Satellite of Love".

Il progetto presentato nel 2006 prese il nome di Meta7-Medium. Esso consisteva in una complessa macchina comunicativa in cui si sovrapponevano sette diversi "layer spazio-temporali" corrispondenti ad altrettanti flussi audiovisivi. La complessità consisteva prevalentemente nel fatto che ogni location, interna ed esterna, comprendeva contemporaneamente il momento produttivo e quello del consumo televisivo: le sequenze audiovisive venivano mixate in diretta dalla regia del media center allestito all'interno del Witte de With e ritrasmesse in streaming nelle location in cui erano presenti le nostre troupe.

In estrema sintesi, l'articolazione spaziale della performance prevedeva un luogo interno (il centro Witte de With, appunto) e uno esterno, identificato prevalentemente con la biblioteca/E-centre Blaak o con il mercato che aveva luogo nella piazza adiacente.

Questo articolo per Inchiesta racconta la storia di questo straordinario esperimento.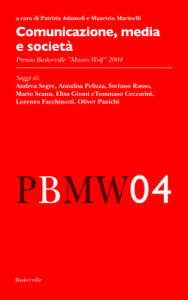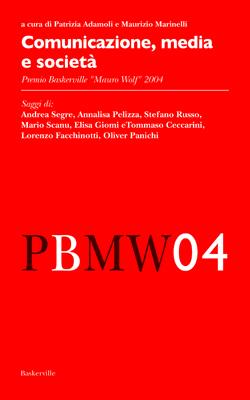 Pelizza, A. (2005), 'Dall'Auditel al General Intellect. Un modello evolutivo del pubblico televisivo', in Adamoli, P. and Marinelli, M. (Eds.), Comunicazione, media e società. Premio Baskerville 'Mauro Wolf' 2004, 45-78. (Bologna: Baskerville).
Award winning paper (close second) at the 1st edition of the Mauro Wolf Prize on Media and Society, prize organizers: Baskerville Publisher, in collaboration with University of Bologna, University of Rome La Sapienza.
Available only in Italian
Il saggio tenta di mettere a fuoco un aspetto particolare del sistema dell'informazione contemporanea: come stia cambiando la figura del pubblico televisivo a causa della rivoluzione digitale nei mezzi di produzione e in seguito a variazioni nella percezione di tale figura che hanno a che fare con la sfera del simbolico. L'ipotesi sociosemiotica ci porta a prendere in considerazione anche l'influenza delle pressioni sociali a una comunicazione "dal basso" su un uso delle tecnologie improntato alla contaminazione dei ruoli empirici corrispondenti all'Enunciatore e all'Enunciatario.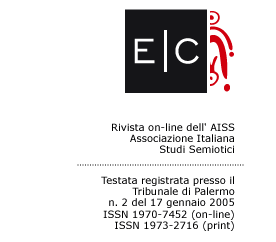 Pelizza, A. (2005), 'Spazi pubblici a un bivio: Per un'interpretazione del tema del degrado. Il caso del PSC del Comune di Bologna' [Public Spaces at a Crossroads. Interpreting Discourses on Urban Disorder: the case of the Municipality of Bologna], E/C Journal of the Italian Association of Semiotic Studies, 4.
 A semiotic analysis of the techno-spatial arrangements that produce urban disorder as the lack of dominant meanings
Only available in Italian

Pelizza, A. (2007), 'The Meta7-Medium Experiment', in AA.VV., re.sonance. network. mission. 007. (Vienna: Basis Wien).
Austrian book on media art and media studies
Write me for a free copy
Meta7-Medium was the name of a series of live performances and broadcasting realized from 25th January to 5th February 2006 at the Rotterdam International Film Festival's Satellite of Love event. It was designed and produced by Orfeo TV – Telestreet (I was the producer). This article accounts for that exciting experiment, which involved the whole city of Rotterdam in live broadcasting across neighborhoods, at a time in which YouTube was still unknown.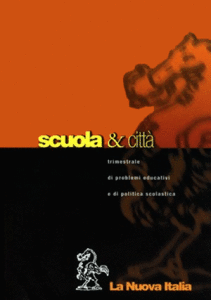 Pelizza, A. (2006), '"Fare televisione" come tecnologia del sé: Per una ricombinazione di produttore e fruitore' [Doing Television as a Technology of the Self. Towards a recombination of producer and user], Scuola e Città, special issue on media literacy.
Italian long-standing journal in Education Studies
Write me for a free copy